So my Padres climbed out of last place last night. That's really the only silver lining in my dark cloud of sports recently. My Sooners just had an awful terrible weekend which culminated in their entire All-America team being out for the season. (exaggeration but probably will happen before season's end) Guess I'll have to buy a program on Saturday. Who are these people?

Of course, my quixotic nature still fixates on a national championship. But, I'll surely wake up and smell the overpriced coffee. Or at least drink a cup.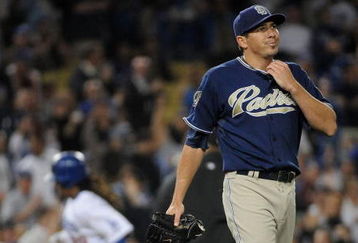 But back to my Padres. Yes, I have been a hopeful fan for 27 seasons now, 14 of which--including this season--have been below .500. So yes I am faithful. That makes me a good husband and perhaps a better Sooner fan in the long run. Yes we are spoiled, us Sooners, but we shall persevere. In the 90s, even when things were bad beyond belief, the stadium was still 85-90% full. With only 2 exceptions, at least 65K people came every year from 1994-1998 (the dark ages).

But I was brought up that way. Don't abandon your teams. Don't abandon your family. Don't abandon your church. Lord knows we could've left our church a few times. Geez, it was just terrible at times. But we never left. We stayed through thin and thinner. Guess that's why I have very little understanding of "church hoppers" but I guess it's necessary on occasion.

So here's to you, 4th place Padres! And to you, last place Thunder! And even to you, 0-1 Sooners. I'll be there on Saturday. I'll cheer you on against the Idaho Kiwanis Club. And I'll be there at the end, when Bedlam strikes, even if things don't look promising for the Crimson and Cream.